A plastic product can be made more effective, for example fulfilling several functions simultaneously or fulfilling previously fulfilled functions under more demanding boundary conditions. For this purpose, at first, the product condition must be determined. It might be necessary to research on the measurement equipment and methods, too. Material laws and standards can be used for research on the predictability of the behavior of the product, especially lifetime prediction under various working conditions. The component behavior can be simulated with calculations and validated with certains experiments.
Solid state behaviour

Initial Situation

Glare charactersitics depend on the morphology and phase adhesion of the glare partners
Glare characteristics are dependent on speed, temperature and medium
Problem
There are no criteria for optimal glare morphology to achieve a maximum toughness at low test speeds.
Determination of the shape and size of the plastic deformation around the crack tip is insufficiently possible
There are currently no valid material models for the simulation of fracture behaviour.
Solution
Optimization of glare characteristics by means of fracture mechanical methods
Use of a 3D image correlation system for local determination of crack growth and material deformation during fracture
Coupling of the molecular dynamic simulation with continuum mechanics to predict glare characteristics

Initial Situation
Conventional material models can only insufficiently predict the real behavior of plastics
Problem
Determination of suitable material models for multiaxial load conditions
Model calibration by uniaxial material properties
Solution
Consider the visco-elasticity of the materials behavior
Implementation in commercial FE-Simulation tools
Validation of the prediction quality by tensile tests and complex parts

Initial Situation
Stress based design leads mostly to oversized parts due to multiple reduction factors
The critical strain is the strain, at which first micro cracks occur
Critical strain is mostly independent of kind of stressing, time, temperature and kind of medium
Problem
A quick, universal and robust determination of the critical strain for a wide variety of materials
Solution
Acoustic emission analysis (AEA)
Correlation of measured signals
(elastic sound waves ó micro cracks)
Detection of micro cracks during tensile tests
Contact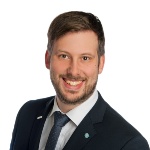 Wolfgang Essig
Dr.-Ing.
Head of Department Product engineering